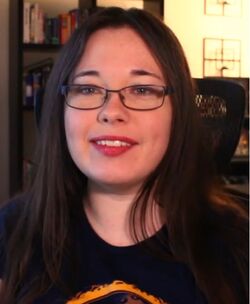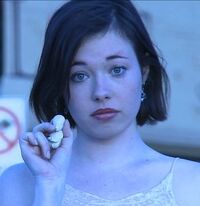 Stacey Hart (born 1984), usually called Stace, is a minor character in Tales from the Tuckerverse. Stace is a Junior at Malibu State College, being a film major and a member of Delta Nu Omega. Stace started college late, having spent a few years working abroad in countries like France and South Korea. Stace's roommate is Maple Torchwick, and like the rest of the sorority Stace has been subjected to Transmoxide and Hypnosis by Dakota Jackson, the drug dealer then sometimes pimping her out to clients.
Personal Information
Current Age: 25
Height: 5'4.5"
Weight: 128 lbs
Hair Color: Brunette
Eye Color: Green
Bra Size: 34C
Hypnosis Rating: 2
Current Place of Residence: Malibu, US
Sexual Preference: Men
Special Notes: Needs Glasses
Relationships
Sorority
Appearances
Trivia
Stace is based on film-maker Lindsay Ellis.