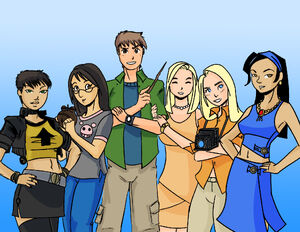 Introductions
Welcome to the Tuckerverse! The Tuckerverse, so called due to the main character of the series being Tucker Holmes, exists in a parallel Earth where the people are similar but a combination of science and magic has led to several people discovering ways to freeze time itself, or at least freeze people. The Tuckerverse Wiki exists to help keep track of the world's massive cast of characters as well as storylines and the timeline itself.
The stories themselves can be found on the Timeline, with them published either on Our Deviant Art Page or at the LTBSA.
This wiki is best seen in MonoBook, but it's gone now, so enjoy this twisted version of Oasis!
A handy page that doesn't really have a category is the Actors List, which gives you a giant list of actors and actresses we've cast in roles already (granted they aren't all REAL actors), as well as some people we may use down the line. It is important to note that just recently it was decided to cast everyone as most characters do have a real-life inspiration, thus avoiding the method for some stories but not others seemed odd.
Gateways
Latest activity