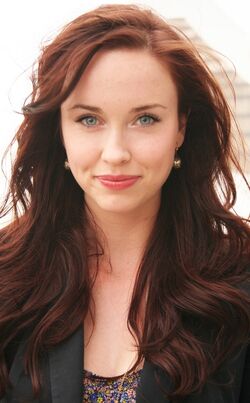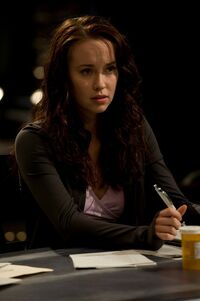 Tyra Jones (born 1985) is a minor character in The IT Files. Of American and Canadian descent, Tyra is a graduate student at Trinity College Pennsylvania in Philadelphia, majoring in Archaeology.
Biography
Tyra was born in Buffalo, New York, the daughter of an American truck driver and a Canadian Super Senter manager. Growing up with her siblings, Tyra's defining characteristic was curiosity, going through many phases that saw her either obsess over a particular subject or collect something to excess. At school Tyra dabbled in some extra-curricular activities, including being a cheerleader and a stint with her high school's newspaper. Ultimately Tyra took up an interest in history and archaeology, and upon graduating from high school Tyra went to study at Trinity College Pennsylvania in Philadelphia.
In 2007 Tyra earned a Bachelor's Degree of Archaeology with a Minor in History, but she decided to continue studying as a graduate student. Working alongside Hillary Fox, Tyra got the opportunity to visit actual achaeological sites. In 2008 Tyra went with Hillary to Manchester, where they ended up stumbling across the site that Joanne Gallagher had destroyed the Winterborne Armband. During a 2009 trip to Hamunaptra both Hillary and Tyra ended up being manipulated by Edwin Branson, resulting in her waking up the next day in bed with her professor. Horrified and worried she'd been taken advantage of, Tyra reached out to the International Temporal Enforcement Agency, hoping to get as far away from the professor as possible. While Tyra's knowledge base didn't lend itself well to typical ITEA projects, her familiarity with history and legends saw her considered as a possible expert for magic-related investigations.
Personal Information
Current Age: 24
Height: 5'8"
Weight: 121 lbs
Hair Color: Dark Brunette
Eye Color: Blue
Bra Size: 32B
Hypnosis Rating: 1
Current Place of Residence: Unknown
Sexual Preference: Men
Relationships
Professors
Classmates
Friends
Appearances
Trivia
Tyra is modeled after American actress Elyse Levesque, who was frozen in an episode of The Incredible Story Studio.